Job's Daughters Pay It Forward with B.E.S.T. Grant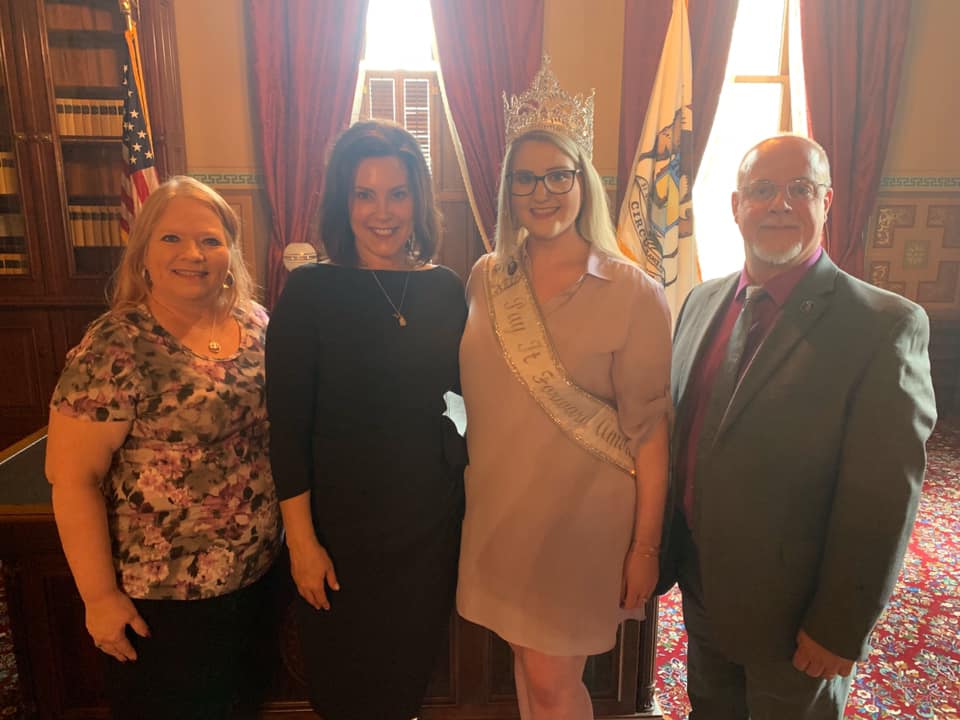 April 17th, 2019 was a historical day for Michigan Job's Daughters, as the Grand Guardian Terri Brower, Associate Grand Guardian John Bodnar, and our Pay It Forward Ambassador LilianAlaine Giese, had the great honor of being welcomed to the governor's office, where we were able to obtain a proclamation recognizing April 28th as "Pay It Forward Day" in Michigan. When we started out on this journey, and formed the partnership with the Pay It Forward Foundation, we knew that this program was going to cost more than Michigan Job's Daughters could afford.
We learned of the B.E.S.T. Community Grant through the Michigan Masonic Charitable Foundation, and decided to try for it. In our application, we vowed to be over-the-top enthusiastic, to get outside the Masonic temple walls, and to make every effort to have the governor sign this proclamation. We were a little worried about the timing, due to the elections, and only having three months to get it done with the new governor. But here we are. We did it! All thanks to a couple of crazy people who believed they could change the world, and a whole bunch of Free Masons at the Michigan Masonic Charitable Foundation, who were able to see our vision, and put their faith (and their funds) in us!
Michigan Job's Daughters has been beyond blessed by the support of the Charitable Foundation, and through this BEST Community Grant, we have been able to perform many purposeful acts of kindness all over Michigan by Paying It Forward to each other, to those in our communities, to animals, and to the planet.
Just to mention a few: we have sponsored a carnival and clothing drive for foster children in Genesee County, distributed scarves to the homeless in Grand Rapids, collected and delivered personal care items to shelters in the Detroit area, collected and donated to food pantries all around the state, adopted families over the holidays, adopted members of the military, collected and donated necessary supplies to animal shelters and Paws with a Cause, cleaned up parks and planted flowers, and many many other projects.
Our efforts and our project have been recognized around the state, and now we have a proclamation signed by Governor Whitmer! And it was all made possible thanks to the support of the Michigan Masons, and we are forever thankful to you!